Tan Oak Park is operated by Families and Friends United by AIDS, established in 1989 to provide support services to persons impacted by AIDS. We are a completely volunteer, non- profit organization.
We are now proud to announce the opening of our park to your nonprofit group or organization for fundraising events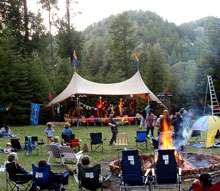 A totally wired amphitheater with a fire circle and a covered redwood stage. Nestled in a mountain forest opening.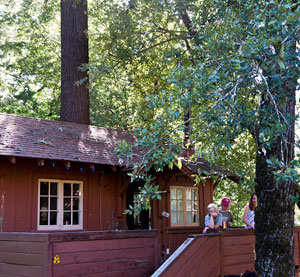 Overnight accommodations offering log cabins and campsites with redwood tent decks in a modern campground in an enchanted wooded park.
You are invited to attend
These coming events
July 26 - 29, 2013
1st Annual
Family Sustainability Herbal Weekend
One Life - One Earth - One Love
The time is now and it is up to us to lead and direct and live the way our hearts, hands, and mind need us to.
August 17, 2013
FAFUBA's 20th Birthday Party
All Friends are Welcome
August 24, 2013
Mt. Folk Festival
Leggett Volunteer Fire Department Fun Fundraiser
Located at the historic
Tan Oak Park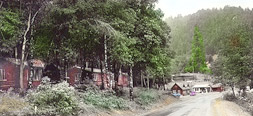 established 1928.
Located in Mendocino county
200 miles north of San Francisco
58974 North Highway 101, Leggett, California 95585
707-984-6206