Tan Oak Park
operated by
Families and Friends United by AIDS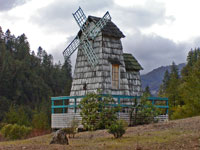 Established in 1989 to provide support services to persons impacted by AIDS. We are a completely volunteer, non-profit organization
We are now proud to announce the opening of our park to your nonprofit group or organization for fundraising events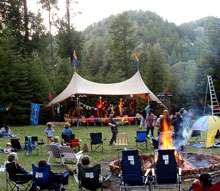 A beautiful amphitheater with a fire circle and a covered redwood stage. Nestled in a mountain forest opening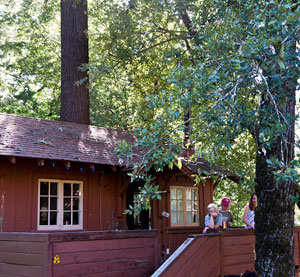 Overnight accommodations offering log cabins and campsites with redwood tent decks in a modern campground in an enchanted wooded park
Historic Tan Oak Park

Tan Oak Park is now under Evacuation Warning (downgraded from an Evacuation Order) due to a serious wildfire, called The Lodge Lightning Complex fire.
For current updates check out these links:
And
An evacuation shelter has been set up by the American Red Cross at the Leggett School, 1 School Way.

Mt. Folk Festival
Saturday, August 23, 2014
TEMPORARILY CANCELLED
Leggett Volunteer Fire Department
Annual Fundraiser
The annual Mountain Folk Festival hosted at Tan Oak Park was cancelled. (Though plans may be revived once the Lodge Fire is under control.)
Those wishing to help the Leggett firefighters can drop off monetary donations at Redwood Mercantile. "We have a jug there," explained Melissa Rosenthal. Or a check can be sent to The Leggett Valley Fire Protection District, P.O. Box 190, Leggett, CA 95585.

Tan Oak Park is on facebook.
Located in Mendocino county
200 miles north of San Francisco
58974 North Highway 101
Leggett, California 95585
707-984-6206
Tan Oak Auto Park was established in 1928 to provide services to travelers on the newly constructed Hwy 101